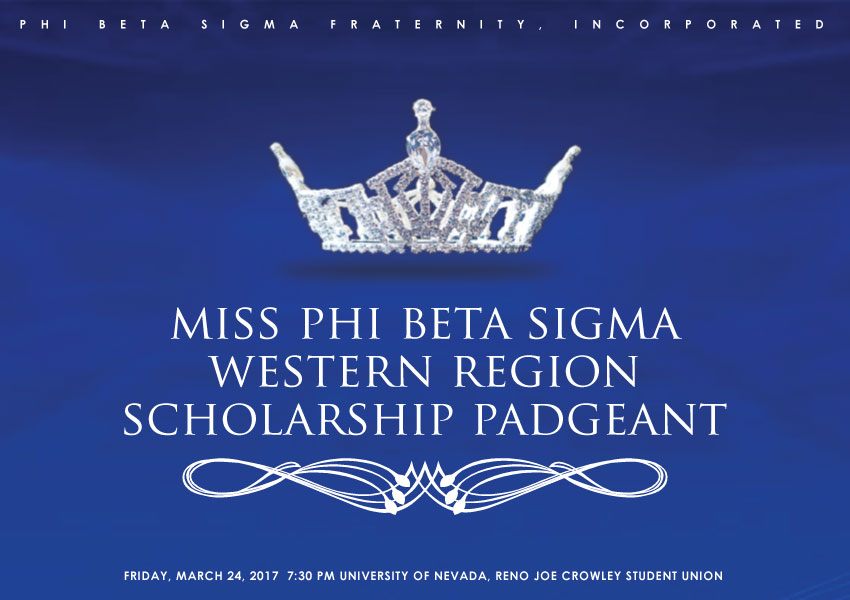 February 28, 2017 By PBSWest.org
Dear Pageant Contestants,
We would like to thank you for your interest in becoming a part of a long-standing tradition with Phi Beta Sigma Fraternity, Incorporated and the Western Region. We are currently seeking ladies that exemplify the qualities of scholarship, elegance, style and grace to represent our region as Miss Phi beta Sigma, Western Region 2017-2019.
Guidelines & Qualifications
Contestants must NOT be older than 25 years of age.

Contestants must be single and without child(ren) at the time of the pageant. If chosen, she must remain single and without child(ren) during her reign.

If chosen to be a Miss Phi Beta Sigma Contestant, contestants must raise a minimum of $500 in advertisements to go towards Phi Beta Sigma Fraternity, Western Region.

No fire, water or animal acts are permitted.

Rehearsals are MANDATORY and all contestants are required to attend.

In the event of a tie, a TIEBREAKER QUESTION will be asked.

Please be courteous and professional to all fellow contestants.
Judging Criteria
The Miss International Phi Beta Sigma Pageant judging system is designed to promote diversity, individuality and overall achievement among all contestants. Judges score the individual contestants immediately following each phase of the competition. Contestants are scored totally on a 1-100 point scale in whole numbers; within each category (more than one contestant may receive the same score). There is one panel of judges for the entire competition. All judges have been educated about the Miss International Phi Beta Sigma Pageant 2017 Judging System and represent a variety of professional sectors within their communities.
Fundraising Component
Each contestant is required to raise a Minimum of $500 in Ads.

Additional points can be achieved for every $100 raised after minimum.
Swimwear Competition
Overall first impression

Overall physique (compliment height, weight, and figure)

Sense of confidence and attractiveness
Presentation
Creativity and personal introduction

Overall appearance/demeanor of the contestants
The Interview
Overall first impression

Personality

Personal appearance

Ability to have dialogue in conversation
Evening Gown Competition
Overall first impression (sense of confidence, style of gown)

Gown, movement, as well as gown compliment

Sense of attractiveness (hair, make-up, accessories)

Stage presence (poise, grace, style)
Talent Competition
Stage presence

Originality of talent

Totality of all elements (including costume, props, voice, use of body, choreography)

Overall performance
On-Stage Interview
Respond in the context of the question with speech and grammar

Emotional control